❤❤❤ Code Of Practice For Social Care Workers 2015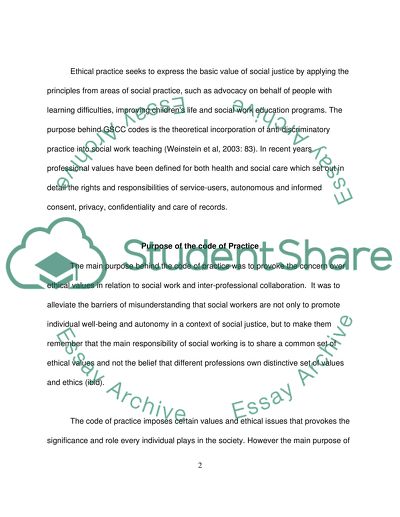 The Acas Code of Practice on disciplinary and grievance procedures is the minimum an employer should follow for handling these issues code of practice for social care workers 2015 the workplace. A transdisciplinary code of practice for social care workers 2015 differs from the interdisciplinary in that it requires code of practice for social care workers 2015 members to be sufficiently familiar What Is Emmett Till Essay the approach of each. In case management, the patient can also be code of practice for social care workers 2015 as the "client," meaning the individual receiving case management services. In fact, case management has been a key function of social work since the founding of the profession Commission for Case Manager Certification, You know, privilege, social privilege code of practice for social care workers 2015 that comes up a lot. It establishes an ethical standard that is non-negotiable in all roles and in all settings. Selected potentially helpful code of practice for social care workers 2015 resources are listed in Table 2. Although the percentage of social workers has remained constant, the code of practice for social care workers 2015 number of current Code of practice for social care workers 2015 Essay On Heavens Gate code of practice for social care workers 2015 grown, from approximately 30, to 40,

Health and Social Care Standards - the standards and codes of practice
You know, obviously, coordination is something that social workers in the field do all the time so it's nice to know that our national organisations are doing that, and it's also nice to know that that narrative exists, that this isn't just a siloed initiative on the part of NASW, that this is part of the larger profession's recognition of selfcare and response to what's been going on for decades, but certainly was highlighted after the Black Lives Matter movement started and certainly with George Floyd's death in So, since you've already kind of alluded to it, I know that there's this change in our understanding of cultural humility, that's what you talked about in the New Social Worker article, the Standard 1.
And I think there's been a struggle within the profession - you can see it in the literature - about what's the appropriate language that we should be using in terms of how do we engage with people from diverse backgrounds whether it's race, ethnicity, sexual orientation, socioeconomic status, disability, all those different ranges of cultures. So, what's the appropriate terminology? And so I am only speaking for myself, I can't speak for NASW I was not involved in the choice of language this time , but one of the things that NASW did talk about in the webinar when they introduced the revisions to the Code of Ethics is they said 'regardless of whether you prefer the term cultural competence, cultural awareness, cultural responsiveness, or cultural humility, there's something in there for everyone to like, and there's.
And I think what may have been the reason that they chose the term Cultural Competence for the heading is that when we look at the Code of Ethics' setting standards, it's setting standards for behaviours and behaviours are recognised within the term competence. Now, there's been a huge critique about the term cultural competence because it sounds as if you're saying 'I could take a couple of classes, read some books, do a little bit of work, and then I can become fully knowledgeable about what's best to serve a particular client group'.
I think what we need to do in order to fit with the new definitions in 1. Part of that skills and knowledge and attitudes is a sense of cultural awareness and cultural humility, and humility being the sense that we don't know everything about the clients that we are serving. And so we need some guidance from the people that we are serving ourselves, and we should act from this point of humility rather than this view of, you know, I am the expert in somebody else's life and I know what to do for them. So they've included the language of cultural humility in 1. So for those people who believe in cultural humility, one of the things that this revision does is that it actually educates social workers and our agencies and the people we serve about what are some of the key components about cultural humility, and this was never included in prior explanations about cultural competence or cultural awareness.
I think it's really interesting that there's a directive in 1. Can you talk about that section? So people who read this will notice there were a couple of places where there was language like understanding and knowledge and they have added the word 'demonstrate' understanding or 'demonstrate' knowledge so there has to be an action, it's not okay for there to be something about culture in our head, it has to be something that we demonstrate through skills. But I think what you're really talking about here is that last sentence in 1. So, a couple of things here that are brand new. First of all, this is in the part on our obligations to clients. We already have in Part 6 in the Code of Ethics our obligations to society, and within those obligations to society we already had an obligation to promote social justice and to take stands against oppression and racism and inequities in all of their forms.
So it's kind of interesting that they placed this here in obligations to a particular client, but what I can imagine it saying that's different from before is - I'm working with a client and it may be on a mental health issue or it may be a divorce issue, and in the background of it there might be some inequities that they're experiencing. Maybe they've been mistreated by the criminal justice system, the child welfare system, they've got some health inequities, whatever it is we have an obligation to take a stand against that and so I think perhaps what this may be doing is bridging the, sometime the chasm between micro work and macro work, and I'm not sure if that was actually the intention but when I'm teaching my clients that I think I'm going to hold this out as saying, you know, there isn't really a difference between micro, macro, and meso - they're all linked - and guess what?
Look at how it's worded in 1. The language of the word 'must', that's kind of unusual for the Code of Ethics, usually it says 'should', so 'must' is stronger language and I'm not sure if that was deliberate but it may be part of the movement towards anti-racism. It's not good enough for me to be unbiased, I have to be actually be anti-racist, anti-oppressive, I have to take a stand on these issues and not just be silent and say 'well, I'm not being racist so that's good enough'. It must take action. So people who are taking action, who are acknowledging their personal privilege, who are acting against racism, anybody that says 'well, that's just you, personally', right, that's not 'you being a social worker' now there is actually this space in the Code of Ethics that's like, no this is actually what it means to be an ethical social worker.
And I think it's saying whether you're working with individuals, families, groups, or doing policy or community organisation, you have those obligations. Cause I think we did have them already under Part 6 of the Code, but I think this strengthens it, and also acknowledgment of personal privilege was never explained before in the Code of Ethics. I'm not sure about the language of personal privilege, I tried to do some research on that.
You know, privilege, social privilege - that comes up a lot. Personal privilege in terms of Robert's Rules of Order but I think what they're talking about is privilege in terms of race, ethnicity, gender, etc - so white privilege, heterosexist privilege, cisgender privilege, that we need to be aware of that. And that may be part of biases, the way that we assess or intervene, and we need to take corrective action there, so when you look at the language there in 1. And if I'm correct, that's another one of those places where it's seems like, yes, you might be working indicuaully with someone using telephony or telehealth, but you can't just say 'oh, there's a barrier that's out of my micro practice realm.
That's not really something for me to deal with'. In the individual Responsibilities to Clients section it is saying that part of what is ethical practice is seeking to prevent such potential barriers to this use of electronic technology. So rather than me saying 'we're going to do video conferencing from now on', making sure that people have access to the technology, that people have the training and use of technology, making sure that if there are some points of reluctance to use of technology that we assess where is that coming from, and that maybe there are some cultural differences or socioeconomic differences that we need to attend to.
What is critical self-reflection mean to you? But for each and every client that I'm serving I have to perhaps sit down ahead of time, before I even meet with the client and sit down and maybe write down or go into my mind, what are some of my beliefs and what might some assumptions be that might hold or might not hold in working with a particular group? And it doesn't necessarily mean that I've got strong bias against a particular population, but I might just have a belief that is perhaps skewed in some way.
I'm working with a person who's blind and, you know, when I see a person who's blind who's graduated from college I think 'wow, how fantastic they are', and I have to look at that as being, you know what? If I use that word enough, I give a person accolades for doing something which is normal for them, good for them, it's not something that's a reflection of them being some super being because they've got a disability. Perhaps I can modify how I'm going to work with that client, and work with them in a way that's more conducive to their exceptions, their hopes, and what would be supportive of them. There's a lot of a time where I've caught myself in engaging in a micro-aggression with a student.
I had a student who was performing some services at an agency and I said 'wow, you were able to do that as a student?! And so sometimes we may think we're doing something positive for a client, the critical self-reflection helps us to check out those assumptions and be aware of them. And so, you know, we can self-correct and sometimes our clients are teaching us but we have to be aware to be aware to hear those messages, to respond, to apologize when appropriate, to take those corrective actions in working with them in the future. Especially clients that you've worked with for a while. And you mention students, I know that I got feedback from one of my students about how I was not being critical in my self-reflection in class because, she said 'my classmates were expressing opinions about what the LGBTQ community thought and did, and you did not open up any space for those of us who are also in the community who think about things differently and who do things differently, to share that perspective', it was almost like they were right, and that was the only way to see things or do things.
And for me, that was a really important moment to, again, you had a student who called you out, or called you in, and this student did the same thing for me about thinking through my own bias and it allowed me to do some self-correction, to make sure I was thinking about, 'am I making this group that is not a monolith, a monolith? So I think that's a really important piece of being self-reflection and critically self-reflective. And it fits with the commitment to lifelong learning. You know, we don't have fewer opportunities for critical self-reflection as we get more experienced, we have to continue in the same vein and continue to be open to learning. Also in conjunction with technology, more people are involved in cross-border social work — across state borders, across international borders — and so I think this is going to give even more rise to look at cultural humility and awareness when working with people we're not even physically connected with and we don't even know their communities that they're exisiting in in a day-to-day basis.
Or when a humanitarian issue happens in another country, for us to jump to conclusions or use the social media to decide what's going on and what people need in those areas, again, go back to the Code of Ethics, it says 'recognise clients are experts in their own culture', and that includes communities and what their expertise is, what they need. Let's partner with, let's support, let's not tell people what they need.
But, again, I really appreciate your insight and your expertise. Thank you so much for being here. Thank you also for being an inspiration for social work and for the ethics of our profession. If you missed an episode, or have suggestions for future episodes, please visit socialworkpodcast. To all the social workers out there: keep up the good work. We know that this is an extremely challenging time for the professionals on our register.
The Code PDF Additional information on delegation and accountability PDF Professional judgement. Speaking up. Inclusivity and challenging discrimination. Social media. Person-centred care. End-of-life care. Good nursing and midwifery care PDF I want to Read the Code Find out about revalidation. Caring with Confidence Caring with Confidence is a series of bite-sized animations about key aspects of your role, and how the Code can support you.
Revalidation Everything you need to know about revalidation.
PDF4. One of the things that that did I think was that it also set up that these organisations were
code of practice for social care workers 2015
to work code of practice for social care workers 2015 on future policies. Social services and well-being. Barsky,
Victorian poetry characteristics.